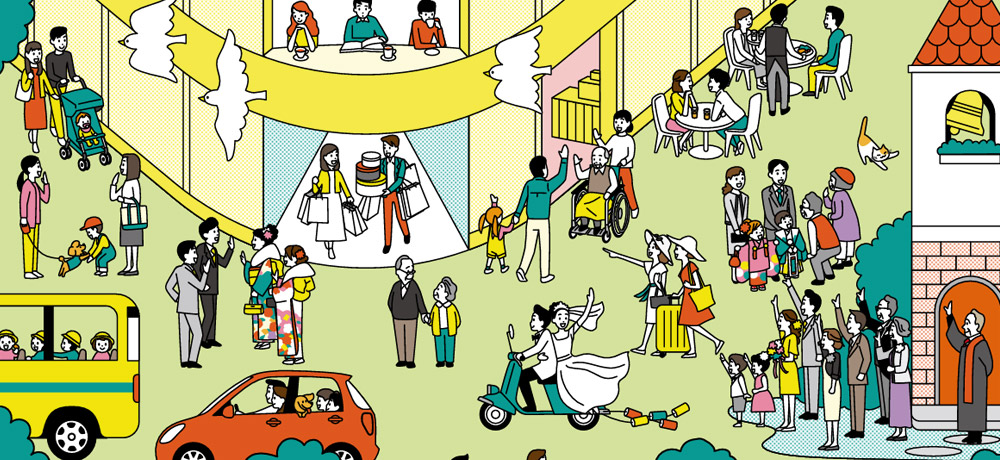 2022.Mar.01
This is a notice to members who have enrolled in the Mutual Aid Association Course sold from June 3, 2013 to February 28, 2022.
New courses now available
We have launched a new course on March 1, 2022. Please click on the link below to view the contents of the new course and a partial brochure.
In the new course, the content of the wedding and funeral plans has been revised (1), and the scope of the use of the monthly allowance has been expanded to allow for the use of a portion of the monthly allowance (2, 3) for such rites of passage as Shichigosan, coming-of-age ceremony, gaju, osechi rites, memorial services, Buddhist altar and tombstone cleaning, pet funerals, and others in addition to conventional wedding and funeral rites.
We have reviewed the course content in consideration of recent usage trends and other factors. Please check the old and new course contents carefully and select the course that best suits your needs in light of your desired funeral/wedding service.
There is a limit to the amount of partial monthly accounts payable available.
Any difference must be paid in cash at the time of use.
In addition, the limit on the amount of the monthly allowance that can be used for partial usage has been relaxed, from the balance of the monthly allowance minus 1/2 of the contract amount to the balance of the monthly allowance minus 6 months' worth of monthly allowance. For members who are enrolled in the following courses and wish to change to the new course, we will accept the change of course by simplifying the procedure.
Please consider switching to the new course, which can be used not only for funerals and weddings, but also for a wide range of your rites of passag
For more information, please contact our representative or the Membership Management Office listed below.
For members who are not eligible for the course, please contact the Membership Management Office for the different procedures.
Target course : Mirai Yakushin course. Irodori Kagayaki course.
(Sold from June 3, 2013 to February 28, 2022)
お願い・・・If you wish to change your course of study, please contact us after carefully reviewing the details of your current course of study and the new course of study.
お問い合わせ Membership Office TEL: 048-650-3111 (Weekdays 10:00~16:00)
---